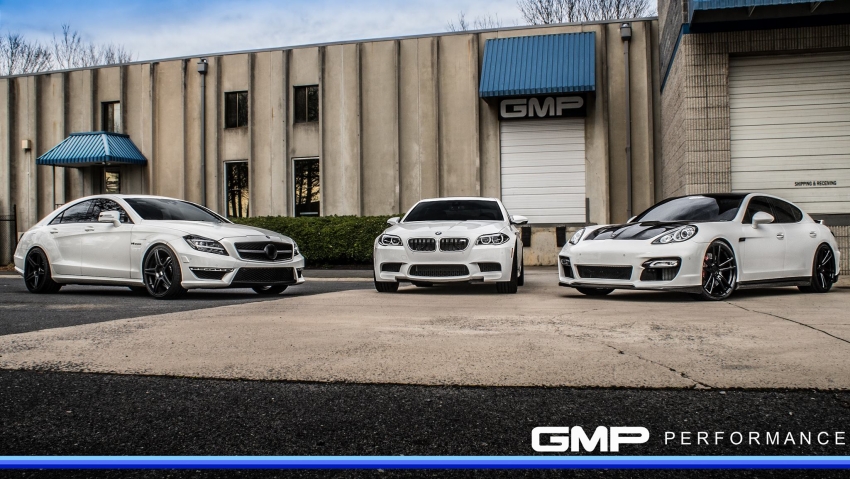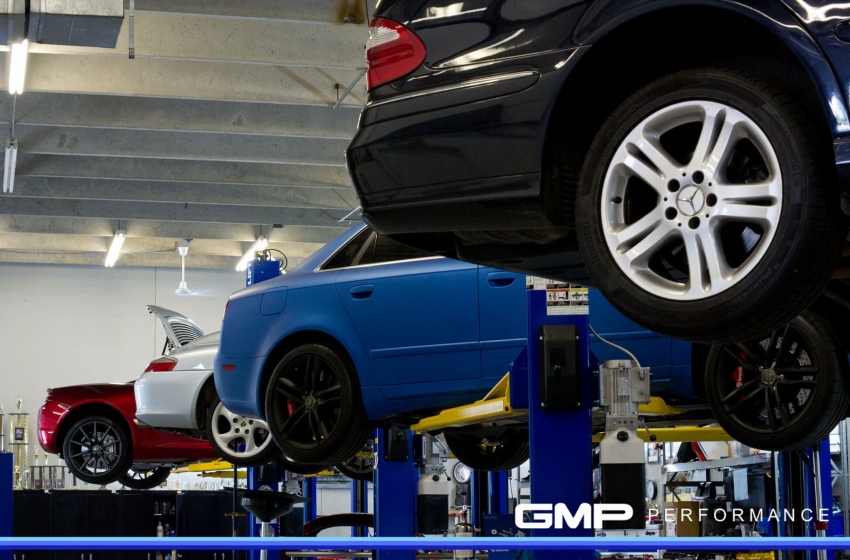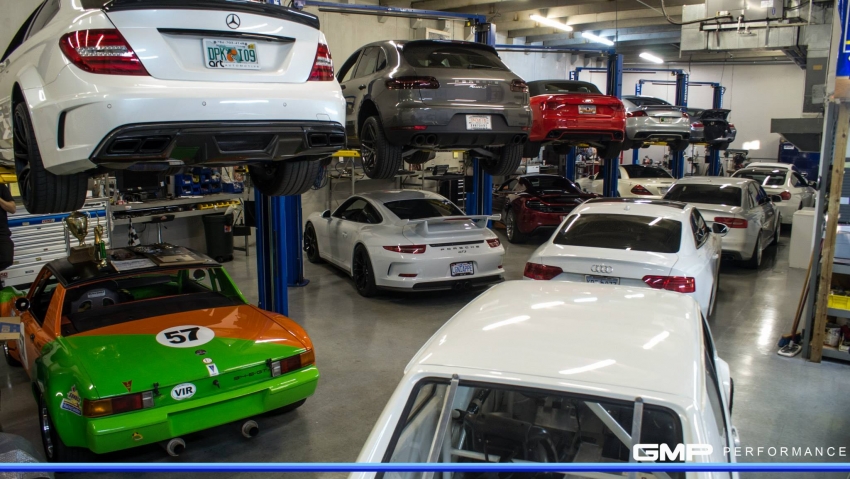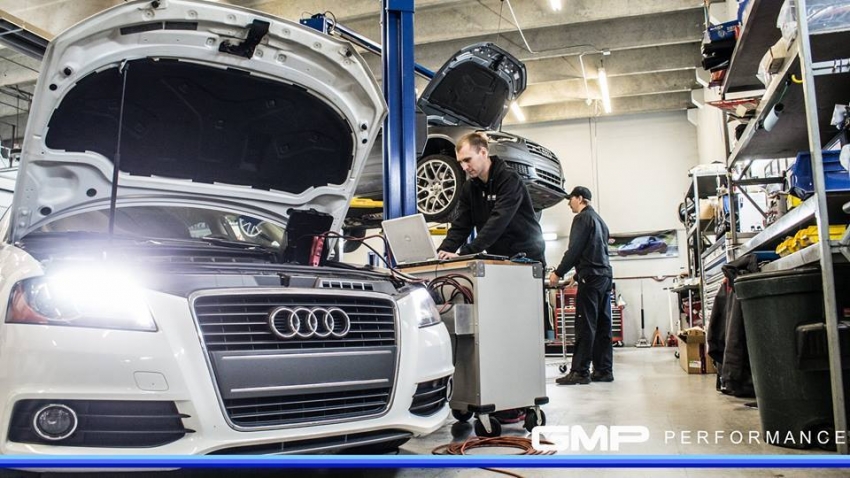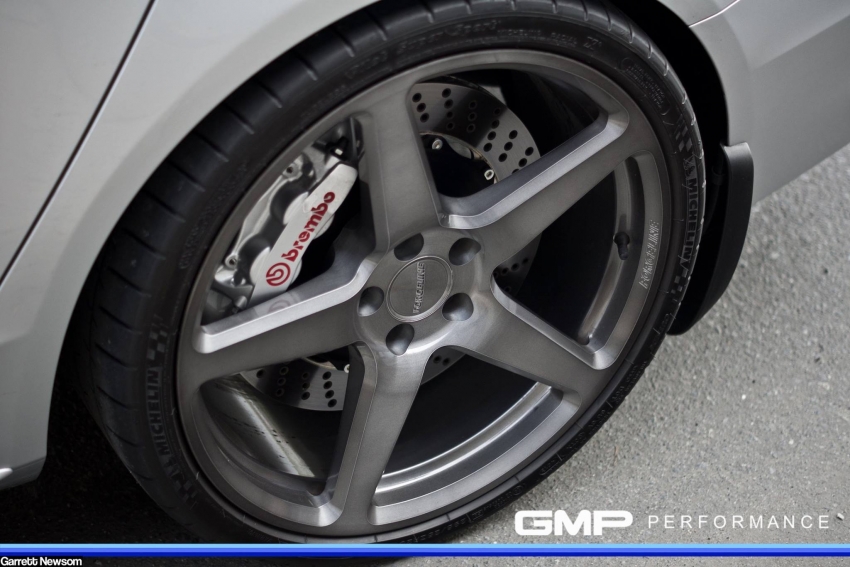 Founded in 1975, GMP Performance has had a passion for upgrading German automobiles. Based in Charlotte, NC we have imported, manufactured and distributed the industry's most recognizable products all over the world. Our company offers shipping direct to your door with national and worldwide delivery options. All the products are offered online 24-7 and can be purchased through our web store by visiting GMPperformance.com. Clients are encouraged to create a login and take advantage of special prices, promotions and sales offered only to those signed into the site. Everything from intakes and exhausts, Superchargers and turbochargers, wheel/tire packages and big brake kits, rollbars and raceseats, rear wings and complete aero kits, lowering springs and coilovers can all be safely packaged and shipped to you directly.
Those clients interested in having their products installed have come to the right place. We offer turn-key local installations on all the products we sell. Our technicians are dedicated to doing the job right the first time and our shop features a Motorsport mentality where each bolt is removed and replaced with hand tools, torqued to spec using digital torque wrenches and paint marked for thoroughness. We do not use air tools during our installs as these can cause severe damage to engine and suspension components, and can mark custom wheel finishes. Our bays are outfitted with custom 2-post lifts designed by us specifically for lowered European cars. These lifts were engineered by Rotary and carry sequential serial numbers unique to GMP Performance. With these lifts, our techs don't have to fight with simply getting the car on the lift and can concentrate on doing the job right.
The combination of an online store and fully equipped shop offers our clients a complete solution. Local clients can visit our showroom to speak with a brand specialist or browse our site from their office or home. We are often in contact via email or over the phone to work up a package to tailor to an individual's personality. We are also here to help with logistics. We understand that sometimes, it's difficult to make time to visit our shop and we have a solution for you. We can come to you in our custom-built enclosed car trailer that can pickup and deliver vehicles to our facility. Our very own driver and trailer have traveled anywhere from around the corner locally, to up into New York, down to Miami and out to the west coast. Our private transport features up to the minute arrival times that accommodates even the tightest schedules. You are you not dealing with a sublet driver that is loading and unloading multiple cars along a route with a two week window. You are dealing with one of us, on your schedule and with a transporter that has been designed exactly for our purpose.
Wheels have the single largest aesthetic impact and as a distributor for the industry's most recognizable brands, we have you covered. Cast or Forged, 1, 2 or 3-piece design, plain silver or custom color-matched, we offer wheels in every style and know what works for your car. We are also tuning partners with the best tire brands to offer ready to bolt on packages. Our mounting and balancing equipment is also hand-picked to deliver the best results. The Corghi Master J mounting machine features actuator switches to operate a rotating head assembly in conjunction with pneumatic arms that mount a tire without ever touching the wheels surface. Once mounted, a lift transfers the wheel and tire assembly over to the Hunter Road Force Balancer. This balancer applies 1,400 lbs of pressure to the rotating wheel and tire assemble to simulate contact forces generated by the rolling road. With this machine, we are able to locate any tire defect before your car ever hits the road. The balancer guides us to locate the absolute perfect match for the particular tire on the chosen wheel. It shows us where to rotate the tire on the wheel to ensure an absolute best possible balance, often times without using wheel weights.
Once a new set of wheels and tires are installed, we recommend an alignment using our in-ground Hunter Hawk-Eye Elite Alignment System. This system is mounted flush with the floor so a vehicle with any ride height can be successfully aligned. Alignment sensor pods attach to the tires to prevent any risk of damage to custom wheels. Air inflation stations are located on each corner and attach to the air valves to set and maintain proper air pressures. These are recorded, along with the camber, castor and toe settings and saved on our server for the clients record.
Having all this equipment in our shop assures that we know what we sell because we install it in-house. Customers can call and speak with our knowledgeable sales team and order their parts with confidence. Once a vehicle is upgraded and personalized to suit your style, maintaining its performance and new look are essential. Our service and detailing departments are up to the task. We offer all scheduled maintenance services recommended by the vehicle manufacturer. We use OEM products and follow our strict Motorsports Mentality. We also offer upgraded factory replacement parts as we understand our clients are always looking to improve. Our detailing department is ready to keep the new car finish protected with a hand wax, and can restore a tired finish to new. We can also apply paint protection film to prevent rock chip damage from occurring to the leading edges on you vehicles paint.
Stop by our 14,000 square foot facility and have one of our guys take you for a tour around the place. You can also visit us online at www.GMPperformance.com and check out all the parts and build galleries. Find us on social media to follow along behind the scenes and if you happen to see us at a car show or track event, please stop by and say hello. We are always giving out some goodies and maybe you can even jump in the passenger seat for a few laps around the track.
Make Specialization
Aston Martin, Audi, Bentley, BMW, Ferrari, Fiat, Lamborghini, Land Rover, Maserati, Mercedes-Benz, Mini, Porsche, Volkswagen
Online Retailer
Retailer / Installer
Mo
9AM - 6PM
Tu
9AM - 6PM
We
9AM - 6PM
Th
9AM - 6PM
Fr
9AM - 6PM